The Solar Cleaning Robot that maintains efficiency of solar panels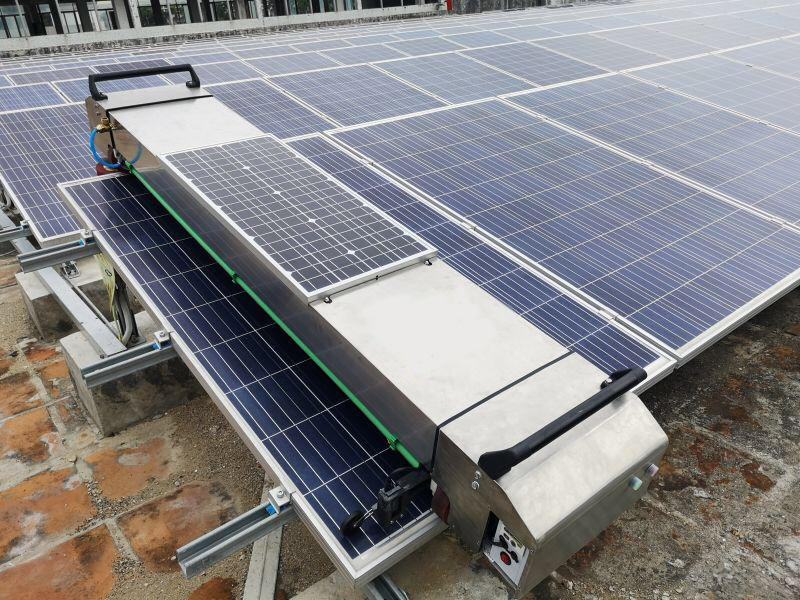 Solar park Midden-Groningen can continue to produce the same amount of energy by using the Solar cleaning robot.
You see them appear more and more; solar panels. From a few panels at a private person in a garage or house to the enormous solar parks that you find along highways or in rural areas. This with only one goal; generating energy and contributing to a better environment. In this way, a contribution is made to the required CO2 reduction. Companies such as Chint Solar are leaders in this field and their solar park along the A7 between Kolham and Sappemeer now supplies energy to more than 32,000 households.
In many countries outside the Netherlands, semi-automatic cleaning machines are already used. 4Washing is an importer of robots specially designed for cleaning solar park panels. The system is easy to install and provides its own solar energy which is stored in a battery and allows the machine to operate for 8 hours.
Efficiency
"Regular washing of the surface of solar panels prevents the accumulation of dirt, moss deposits, particulate matter, and bird droppings. This ensures that the highest possible efficiency of a solar panel is maintained"; said Alain Kahn, director of 4Washing.
The efficiency of solar panels can usually decrease by up to 30%, depending on the environment or climate, if you only clean the solar panels once or twice a year. This has emerged from various international studies and our own test results.
The costs for setting up a solar park are high and it is therefore important for a project developer or energy supplier to retain as much return from the parks as possible. Other systems currently on the market have a high price and in addition, for example, cranes are required to install and remove the machine. As a result, they do not fit into the desired CO2 reduction picture.
About 4Washing B.V.
4Washing BV has years of experience in the technological development of semi-automatic and hand-free washing systems. For more information feel free to contact us.
The Solar Cleaning Robot by 4Washing B.V.